Custom Street Signs for All Your Business and Personal Needs
Enduring Value
Add enduring value to your brand with distinctive options shown in our pricing calculator
Any Size or Shape
Select any custom size or shape street sign to promote your brand and message
Dimensional Effect
Sandblasting creates a three dimensional, textured look
Don't Over-Buy or Under-Buy!™
Select the street sign that best suits your needs
Design Satisfaction Guarantee
Free proofs are provided for your review and approval prior to production
When the sun starts
frying
the beautiful colors on your new Street Signs, which level of
Solar Protection
will your signs need?
Download Information
View Our Street Signs Custom-made by TheSignChef.com Examples
Product Information

for Street Signs
Design
You can have nearly any design, artwork, photo or logo printed on your street sign. Aluminum street signs are covered with high-intensity reflective vinyl to meet federal guidelines. You can add dimensional effects to your street sign with Sandblasted HDU or Cedar.
Design options for street signs are:
PMS Color Match
Reflective Vinyl
Custom Hole Placement
Custom Shapes
Rounded Corners
Our numerous street sign templates provide a fast and effective way for you to start the design process.
Materials
Street signs are made from three materials.
Aluminum (most popular): Aluminum signs are strong, lightweight and one of the most durable sign materials. An aluminum sign will never rot or deteriorate like wood, and does not rust like Steel or Tin.
Sandblasted HDU: HDU is a lightweight and durable foam made especially for producing signs. HDU can be sandblasted to create a three-dimensional look. It is less expensive than Cedar, and easier to produce, ship and install.
Sandblasted Cedar: Grade A, knot free, kiln-dried Cedar can be sandblasted to create a three-dimensional look. It is naturally resistant to mildew and decay. Cedar provides a strong sign surface compared to other wood types.
Color
You can choose any color you want for your street sign. For an Aluminum street sign, we can print your design in full color or cut it out of vinyl. Sandblasted HDU or Cedar street signs can be painted in any color(s) you want. We do offer PMS Color Match for most sign materials.
Custom Street Signs
We are a leading national supplier of both standard and custom street signs and hardware. Our most popular option for custom street signs is aluminum. It is a strong, light-weight material and it's among the most durable of all sign materials. As a material, it is cost effective and remains in high demand for its unbeatable weather-proof qualities. TheSignChef.com's aluminum signs have a perfectly smooth finish and project a first class image.
Not only do our signs look good, but they are made to last! Our standard street signs are produced from a heavy gauge, .080 Aluminum and are covered with our high-intensity reflective vinyl that match federal guidelines. For your convenience, we can also produce your street signs with our non-reflective clear laminate.
If you are looking for a more distinctive custom look for your new street sign - you may want to consider Sandblasted HDU or Redwood signs. The sandblasting gives each sign a cool dimensional look and is very popular for apartment complexes and neighborhoods.
These unique signs offer an attractive, rustic finish. The carved, raised letters create a professional look that offers more character than a traditional aluminum street sign. Redwood is a very strong sign surface that is rarely affected by the wind. While HDU is durable, it is lighter and more flexible than wood. As a petroleum-based material, HDU is naturally waterproof. This means that HDU lasts longer than wood. Whichever option you choose, your new street sign will be sure to stand out from the crowd.
Our numerous design templates provide a fast and effective way to give you a head start on the design process. We can also customize your signs to whichever size and design you would like upon request.
Size
The right size street sign depends on your specific needs. That's why we don't place too many limits on your size options for street signs.
Shape
You're not limited to only square and rectangular street sign shapes. We will cut your street sign to any custom shape you want.
Thickness
Our aluminum street signs are made from heavy gauge, .080" thick aluminum. HDU street signs come in four thicknesses: 1.5", 2", 3" and 4". Sandblasted Cedar street signs can be ordered up to 7 inches thick, but the standard is 1 1/2".
Watch our instructional videos about street signs to learn more about selecting thickness, size, shape and design, as well as stress-free installation.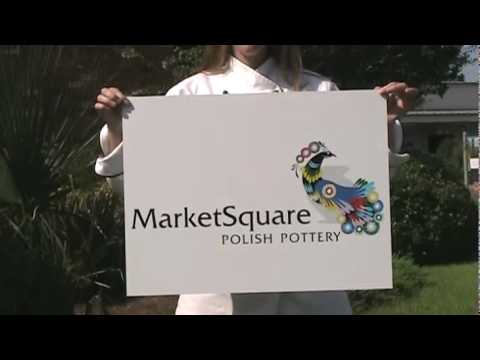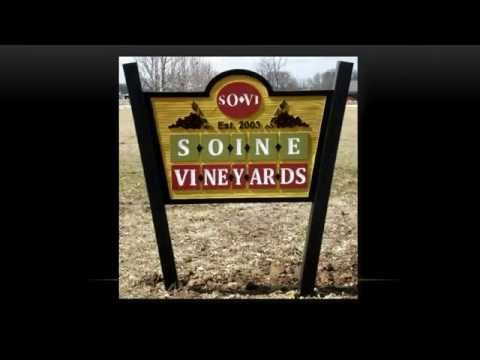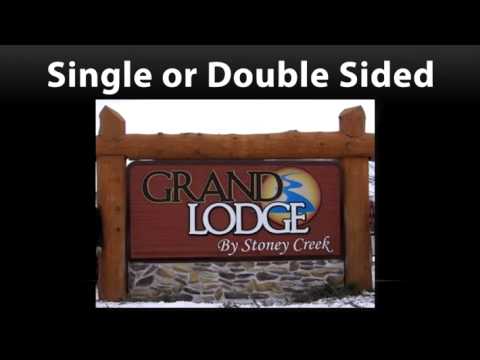 Installation
We offer a variety of mounting kits and accessories that can ship with your order to help you install your street sign as soon as possible. All of our sign mounting hardware is made from high-quality materials.
If you aren't certain what tools you need to install your street sign, we'll be happy to make recommendations.
Frequently Asked Questions

about Street Signs