Sandblasted Redwood Signs and Wood Signs Can Add A Rustic Look To Any Location
Enduring Value
Add enduring value to your brand with distinctive options shown in our pricing calculator
Any Size or Shape
Select any custom size or shape Sandblasted Cedar sign to promote your brand and message
Dimensional Effects
3D and textured effects make every Sandblasted Cedar sign unique
Don't Over-Buy or Under-Buy!™
Select the Sandblasted Cedar sign that best suits your needs
Design Satisfaction Guarantee
Free proofs are provided for your review and approval prior to production
When the sun starts
frying
the beautiful colors on your new Sandblasted Red Cedar, which level of
Solar Protection
will your signs need?
Download Information
View Our Sandblasted Cedar Signs Custom-made by TheSignChef.com Examples
Product Information

for Sandblasted Red Cedar
These are our standard colors. Custom colors and colors matching the Pantone Matching System "PMS colors", are available for an additional price of $70 each.
130L Primrose Yellow
132L Lemon Yellow
134L Chrome Yellow
191L Imitation Gold
124L Orange
100L Vermillion
104L Bright Red
102L Fire Red
108L Maroon
106L Kool Crimson
168L Salmon Pink
120L Coral
164L Dark Magenta
163L Magenta
165L Rubine Red
160L Violet
162L Purple
161L Proper Purple
156L Brilliant Blue
158L Dark Blue
155L Reflex Blue
152L Light Blue
153L Process Blue
154L Peacock Blue
157L Kansas City Teal
150L Blue Green
149L Aqua
151L Robin Egg Blue
148L Dark Green
144L Medium Green
142L Emerald Green
143L Process Green
141L Sublime Green
195L Medium Gray
115L Dark Brown
114L Medium Brown
117L Tan
118L Chamois
116L Ivory
103L Polar White
101L White
199L Black
Because of variations in monitors and printers, the colors
shown above may vary from the actual paint color.
Sandblasted Redwood Sign Fast Facts:
Sign styles have an attractive, rustic finish.
Has a dimensional finish.
Knot-free redwood
Flat grain blasted
Solid and strong.
Natural material so every redwood sign is completely unique.
Available one-sided or two-sided.
Available in 1 1/2" and 3" thickness.
Triple coated enamel finish.
Sandblasted Redwood is Popular for:
Creating a 3D Appearance
Evoking an Old-Fashioned Feeling
Adding Texture
Presenting Handcrafted Appeal
Common Uses for Redwood Signs:
Street and Traffic Signs
Corporate Signs
Road-Side Signs
Wall Mounted Signs
Residential Signs
Camp and Park Signs
Monument Signs
Directional Signs
Redwood Signs are Often seen at:
High-End Businesses
Upscale Neighborhoods
Parks
Golf Courses
Country Clubs
Luxury Apartments
Vineyards
Resorts
Sandblasted Redwood Signs and Wood Signs
When you are looking for textured or three-dimensional signs redwood can't be beaten. It has a natural elegance and appeal. Sandblasting brings out the dramatic beauty of the grain and gives the sign a carved look.
The Natural Beauty of Redwood
Redwood lends itself to unique shapes - ovals are popular as well as arched tops - with custom cut corners and edges you can get nearly any shape you can imagine. You can even have your sign enhanced with gold leaf for a truly luxurious look. Since each piece of wood blasts differently, every redwood sign is completely unique.
One of the World's Most Durable Woods.
Redwood is less likely to warp, split or cup than other wood sign option. Natural resistance to moisture, decay and insect damage has made it the premier choice for both indoor and outdoor signs. With a minimum amount of maintenance, your new redwood sign will last a lifetime. Redwood is a very strong sign surface that is rarely affected by the wind. TheSignChef uses only select grade, clear heart redwood. We offer 1.5" and 3" finished dimension redwood, and our standard blast depths are approximately 1/4" to 3/8".
Creation
The Creation Process begins using Grade A cedar planks that are double kiln dried, which better protects the sign from bowing. They are then bonded together with biscuits, dowels, and high-grade, weather resistant epoxy. Next, the wood is cut to shape and the sign blank is covered with a rubber mask cut from the digital design. Sections of the sign that are going to be sandblasted have the mask removed, leaving the raised areas protected. The design is then sandblasted into the wood, leaving a natural, beautiful wood pattern. Signs are then primed, hand-sanded, and primed again as many times as it takes to ensure that the sign is properly sealed against weather elements. Finally, the primed, sandblasted sign is hand-painted to match your design.
Design
The design of your Sandblasted Cedar sign is more than just layout and colors. It is also important to factor in letter size. We provide a letter sizing calculator so you don't have to guess whether or not your Sandblasted Cedar sign will be readable.
Here are the available Sandblasted Cedar design options:
PMS Color Match
Custom Hole Placement
Custom Shapes
Rounded Corners
Dimensional
Engraved
Color
Our Sandblasted Cedar signs can be painted any color or multiple colors. We do offer a color matching service.
You can choose to have your Sandblasted Cedar sign coated with a clear finish or stain to show more of the wood's natural beauty.
Watch our instructional videos about Sandblasted Cedar signs to learn more about selecting thickness, size, shape and design, as well as stress-free installation.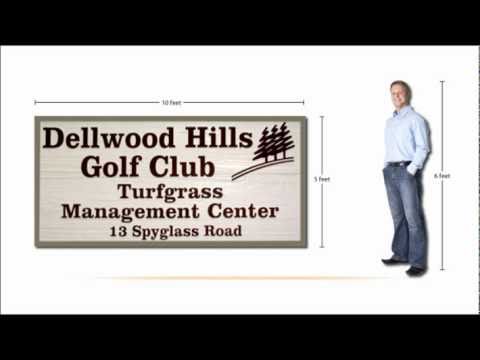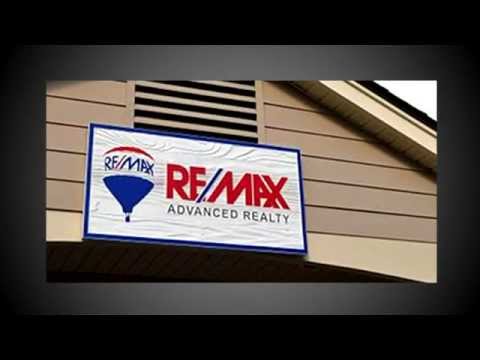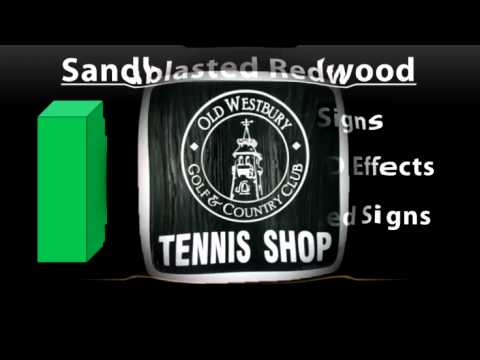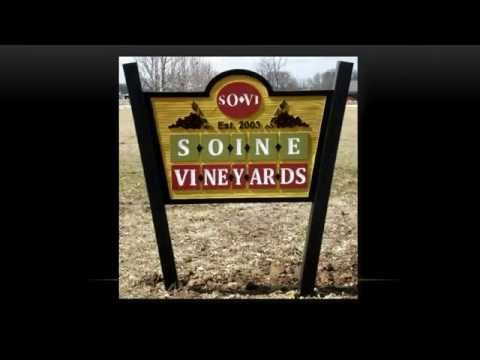 Sometimes, all you want is the bottom line!
Our online pricing tool instantly calculates prices.
At TheSignChef.com, shipping for all indoor and outdoor sign orders over $50 for ground and over $400 for freight is free.
Orders outside the state of South Carolina are tax-free!
We do offer quantity breaks at 1, 2, 3, 4, 5, 10, 15, 20, 25, 50 and 100.
Size
The right size Sandblasted Cedar sign depends on your specific needs. That's why we don't place too many limits on your size options for Sandblasted Cedar signs. While most sign companies are setting limits to what size your Sandblasted Redwood Sign can be, we are making them in every size. No sign is too big. Just let us know what size you need and we'll make sure you get it.
The most popular sizes available for custom are:
8" x 12"
12" x 12"
12" x 18"
18" x 24"
24" x 36"
24" x 48"
36" x 60"
48" x 72"
48" x 96"
Shape
You're not limited to only square and rectangular Sandblasted Cedar sign shapes. We will cut your Sandblasted Cedar sign to any custom shape you want.
Pictured below are a few custom sign shapes, if you need a unique shape, let us know.
Thickness
The standard thickness for a Sandblasted Cedar sign is 1.5 inches. This allows for us to sandblast your design into the Cedar while preserving a solid base for easy mounting.
If you want a thicker sign, you can order Cedar up to 7 inches thick for an additional cost. Remember, because the wood is made of multiple cedar planks it becomes quite heavy when you increase thickness.
Installation
Here at TheSignChef.com, we know the process isn't over once you place the order for your sandblasted wood sign. After all, isn't the purpose of your new sign for people to see it? We understand that installing your wood sign yourself may seem like a daunting task, and maybe you were even planning on hiring someone to do it for you. But, before you go through the hassle of finding a sign installation company, trying to work around their schedule, and factoring in the extra $100 plus for their services, let us show you just how easy doing it yourself can be.
By self-installing your custom sign, you can save yourself time and money (money that you could instead invest in an even bigger or snazzier sign than you originally thought you could afford). So, how do we help you with this process? Well, we offer a variety of mounting kits and accessories that can ship with your order and help you have your sign installed as soon as possible. Common ways to see sandblasted wood signs mounted are on monuments, between posts, hanging and flush. If you aren't certain what tools you need to install your wood sign, you can always contact us and we'll be happy to guide you through the process. Also, you can check out our instructional videos to see just how stress-free installing your custom wood sign can be.
Here are some more helpful facts about mounting your sign!
Frequently Asked Questions

about Sandblasted Red Cedar