See how different sizes
look next to a 6' tall person!
Retractable Banner Stands Packaged with Custom Printed Banners for Trade Show Advertising & Promotions.
Retractable Banner Stands are Instant Promotional Tools for Businesses and Trade Shows!
Retractable banner stands are a perfect choice for all businesses. Regardless if you are in need of a single retractable banner to promote current products or if you seek to incorporate multiple trade show banners for exposure to a larger audience, retractable banners are the ideal marketing choice. Retractable banner stands, also known by some as custom pop up banners, are a necessary marketing tool for trade show and retail environments. Since the graphic banner panel is stored inside the base, set up and tear down is easy and quick. Our retractable banner stands are quick and simple to set up, taking less than a few minutes, allowing you to advertise and promote instantly.
Our retractable banner stands and trade show banners are designed to simply and safely store your graphic banner panel inside its well-constructed base unit, where it is protected during transport or while in storage. Once you and your retractable banner stands arrive on site, simply and effortlessly pull the graphic banner panel from the banner stand base unit to display your message or promotion instantly. Our retractable banner stands are extremely durable and can be used over and over again. In addition, our selection of retractable banners have been carefully selected and designed to offer you numerous special features, whether in design, function, price or size.
Retractable Banner Stands and More!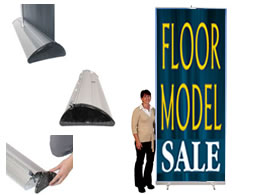 Retractable Banner Stands are great for indoor and outdoor events and promotions, grand-openings, new locations or to draw attention to any storefront. Our retractable banners are strong, solid, stable, and durable. Graphics are long-lasting and can endure exposure for years to come. We offer retractable banner stands and trade show banners in a large selection of options, sizes, and styles. Our retractable banner stands range from our premium, mid-range, and economy retractable banners and include telescopic and spring back options. Our retractable banner stands are produced with the highest quality, include high-end functionality, outstanding features, and long-lasting durability, making them great choices for trade show banners as well as everyday business ventures. Designed with unique styling points and promoting an exceptional appearance a retractable banner stand makes a professional statement for your business. Easy to set-up and tear down, these custom pop up banners are lightweight for easy transport and take up minimal room when it comes to storage. Our premium retractable banners have an interchangeable graphic cassette for repeated use. Simply change out your banner graphics, eliminating the expense of purchasing a new retractable banner stands for every event or purchasing new trade show banners.
Tabletop Retractable Banner Stands provide superior, high-end functionality, features and durability, as well as unique styling points for exceptional appearance. Our tabletop retractable banner stands incorporate basic design features, functionality and reliability. Tabletop retractable banners feature complete customization as well as quality durable construction. Tabletop retractable banners provide a modern and dynamic flair to your marketing message. The high quality printed graphics and extrusion-based displays are simple, lightweight and take minutes to assemble, and most include their own custom carrying case. Tabletop retractable banner stands are highly sought after for in-store point of purchase sales, advertising within shopping centers, and not to mention they make perfect trade show banners. Trade show banners can incorporate large and small retractable banner stands for a stronger impression and increased sales and exposure.
Bamboo Retractable Banner Stands incorporate customary features designed to provide everyday reliability, durability, and ease of use. Bamboo retractable are quick to assemble and extremely easy to use. Constructed of a bamboo base and including bamboo rail and poles, these retractable banner stands are a sustainable and eco-friendly choice. Making them a great choice for you and your business as well as the environment. The bamboo retractable banner is one of the most dynamic and popular large format graphic displays due to its maximum impact with minimal effort. Bamboo retractable stands come in a variety of sizes and are offered as retractable banners and non-retractable banners. Our bamboo retractable banners are lightweight and highly portable and they pack away as easy as they set up. Bamboo retractable banners are completely customizable making them the ideal professional choice for trade show banners and point of purchases displays. Bamboo retractable banners make great custom pop up banners because of the stylish and current bamboo finish as well as the ease of installation and the limitless options when it comes to personalizing your retractable banners.
Shop Retractable Banner Stands
Fast Facts about Retractable Banner Stands
Retractable Banners are readily available in two finishes:
A vibrant, high gloss finish
Or a more conservative, super smooth, matte finish
Retractable banner stands are easy to transport and set-up
Vinyl banners are completely waterproof
Trade show quality banner printing available
Rich black printing available
Premium retractable banner stands include changeable cartridges, for repeated use
You can get any size and color you want
Any design, artwork, photo or logo can be used in the banner design
Custom Retractable Banner Stand Videos
We have created our very own video series to assist you in the selection of the correct retractable banner stand for your business or trade show banners. Regardless of your application, trade show, or in-store use, these retractable banner stand videos will help you choose the correct retractable banner for you and your business. With easy installation instructions and tips for effectively displaying your retractable banner stands, these videos were produced to answer our most frequent questions. In addition, these videos will assist you in selecting the correct banner stands for trade show banners and large corporate exhibits.
Shop Traditional Banner Stands