Custom Metal Yard Signs made from weatherproof aluminum makes this type of signage ideal for outdoor use.
Aluminum yard signs are strong, light-weight and among the most durable of all sign materials. Even with the steady price increases world wide in the raw cost of aluminum, this sign material is still quite cost effective and remains in high demand for its unbeatable qualities.
Aluminum metal yard signs have a perfectly smooth, baked-on, high gloss factory painted finish, and project a first class image. Aluminum yard signs are guaranteed by the manufacturer not to peel, flake, rust, corrode, or fade for a full 10 years. Additionally, a custom metal yard sign can never rot or deteriorate like a standard wooden sign.
Here Are Some of the Key Points To Know About Aluminum Signs:
This Sign Material Itself Is:
Thin
Lightweight
Rigid, Yet Flexible
Rustproof & Waterproof
Chemically Resistant
Durable indoors and outdoors for up to 15 years
Perfectly smooth
Easy to install (installation kits available)
Aluminum Yard Signs are Versatile:
You can get any size you want
Any thickness
Any shape
Choose your own design or artwork for your sign
Photos or logos work perfectly
Choose from a wide variety of colors to your right
Aluminum signs can be one-sided or two-sided
Resistant to outdoor elements up to 15 years
Colors Available for Aluminum
Black
Blue
Brushed Gold & Brushed Silver
Green
Mirror Gold or Mirror Silver
Orange
Red
Yellow
This Chart Shows the Relative Strength of Each Sign Material:
Sometimes, all you want is the bottom line!
Our online aluminum sign pricing tool instantly calculates the exact prices on custom aluminum yard signs, shows you quantity discounts, and even lets you compare this product to other sign alternatives!
And don't forget... at TheSignChef, shipping for aluminum yard signs and all other indoor and outdoor signage is free, and orders outside the state of South Carolina are tax-free!
When you need a more rigid sign panel in a color other than white, you have three great options to choose from: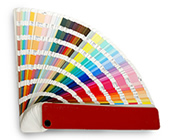 Unpainted aluminum sheeting can be completely covered with self-adhesive vinyl at our shop in your choice of any color. Did You Know: All street signs are simply covered with reflective vinyl. They're not painted!
We can spray paint or powder coat thicker aluminum sheets any custom color you choose.
You can choose a rigid composite aluminum sign material which has a broader range of factory painted colors available such as Dibond, Alumalite and ARMOUR-Wood.
If you're unsure of which choice is best for you, don't worry! We'll gladly provide you with the best option to suit your individual needs at the time of your order.