Use our self-service sign design software and how to videos or let our professional graphic designer create a sign FOR you...for FREE!
How can you get a professional looking design online without paying a dime?
How Do I Use SignMagic To Create My Own Design?
(Intro)
1:36min
How To Add Text
4:34min
How to Add Multiple Lines of Text
3:47min
How to Make Plain Text Stand Out With Outlines and Drop Shadows
5:50min
How to Add A Border To Your Design
1:58min
How to Upload Pictures and Logos Into Your Design
4:00min
How To Use The Secret Color Matching Tool
3:12min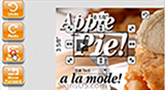 How To Create & Adjust Layers
3:09min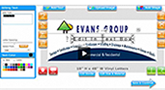 Saving Time With Copy & Paste
2:24min
How To Add Shapes To Your Design
4:04min
Key Bonus Feature of SignMagic
2:38min
How can you get a free, professional looking design online?
4:02min
Self-Service Option
Create Your Own Design
With our SignMagic
Center, you can literally create your own design in minutes!
Free access 24 hours a day
Easy to use, even if you don't have design experience
Text effects available
Drawing tool for all kinds of shapes
Add borders - simple or fancy
Designs are manually reviewed by TheSignChef to make sure your Sign Recipes are Flawless!
Full-Service Option
With our Live Design Software, we can create a
for you, even if you're 2,000 miles away!
Live Design sessions are free, compliments of TheSignChef!
Watch the action live from your monitor as TheSignChef whips up your design
Offer personal imput by phone as your design is being created
Live Design sessions are time efficient because most designs are completed in 33 minutes or less
Get the personal attention and assistance your project requires
There's absolutely no obligation to buy, Ever!