Custom See Through Window Graphics Turn Storefront Windows into Advertising Opportunities
Easy Installation
Vinyl Window Perf, also know as Perforated Window Film, is both easy to install and remove.
Advertise on Glass Without Sacrificing Vision
Vinyl Window Perf allows you to display vinyl graphics on windows and doors without blocking the ability to see out.
Any Graphic or Design
Beautiful full-color graphic designs can be easily displayed on Vinyl Window Perf.
Cut Energy Cost
Vinyl Window Perf also blocks direct sunlight during the summer months to keep buildings cool.
Protect Your Business When You're Not There
Because Perforated Window Film blocks those on the outside from seeing in, it helps to cut down on vandalism.
When the sun starts
frying
the beautiful colors on your new Perforated Window Graphics, which level of
Solar Protection
will your signs need?
Download Information
View Our Perforated Window Graphics Examples
Product Information

for Perforated Window Graphics
You Can See Out - They Can See Your Brand
Take advantage of a unique opportunity to add visual impact to a previously blank space.
You can display photos, text, logos, and any kind of important information directly on your windows - opening up a huge realm of possibilities for advertising and exhibits. It's a very popular branding choice for company vehicles and storefronts.
Putting up custom see-through posters, signs, graphics, and other designs in your windows is a neat alternative to traditional posters or window paint that hide your view!
Share Your Best Side
Lots of clients like to put up window perf to hide away the clutter of a remodel or renovation. It's useful when you are preparing to open a new store or converting an area to storage.
Show Your Style
You can use perforated window graphics to personalize your car, truck, or van, or maybe even your windows at home too.
It's a great way to show some patriotism, team spirit, or to add a little bit of decorative flair.
Be Cool in the Shade
You can enjoy a couple of extra perks when you add perforated window film.
See-through window graphics increase shade and privacy for the folks inside.
You may even see some savings on your electric bill - particularly if you're covering an entire storefront that lets in a lot of sun with view thru vinyl.
Your new vinyl window perf can be made in:
Any Size (including JUMBO sizes)
Any Shape
Any Color
Any Style
Any Finish
And in any quantity, even if it's just one!
Displaying Window Perf is easy!
Easy, Do-It-Yourself application.
Application instruction included with every order.
Easy to follow application videos provided.Vinyl Application Videos
We love it when our clients can install their own signs and graphics. With custom videos created just for you, you can see how easy it is to install. Whether you are installing your window Perf on a store-front window or on your company's vehicle windows, you will take pride not only in the message you are advertising, but the fact that you installed it yourself!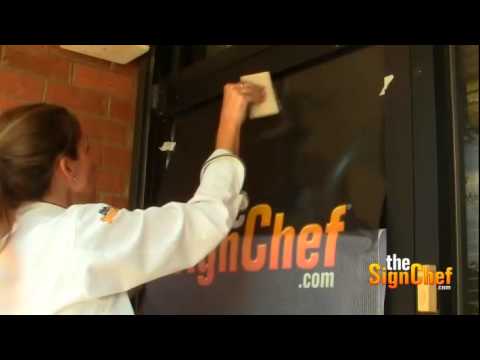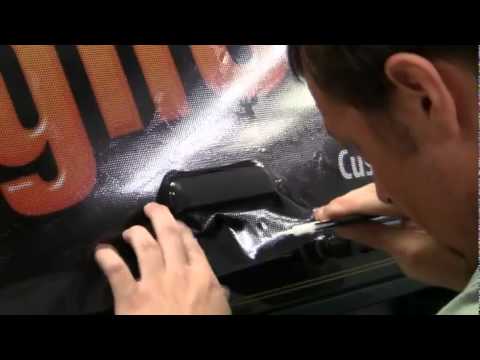 Highlights
Here are the key points to know about custom Window Perf:
Creates a window wide view of vibrant, colorful, eye-catching graphics.
Allows a clear view of outside from inside.
50% vinyl film and 50% perforated holes.
6 mil material thickness. Comes with a premium laminate for extended life.
Very effective sales tool on business and vehicle windows
Great for window graphics, trade show displays, corporate identity and hundreds of retail applications.
Easy, Do-It-Yourself application. Can be made with colored backgrounds.
Available in many colors and designs.
Installation Tips
Applying Window Perf is Easy and Affordable
If you've never applied perforated vinyl before, the process can seem pretty intimidating at first. You don't want to "mess up" and make it crooked. Or even worse, botch the job so badly you have to buy another set and start all over again.
Sign companies are able to use these fears as leverage because as long as you don't know how easy it is to apply vinyl graphics yourself, you have to pay the "professionals" to do it for you. Plus, in addition to the cost of application, local sign shops often charge considerably higher retail prices. You can easily end up paying 300% - 500% more to a full-service local sign company.
View our installation videos in the videos tab to see how you can easily install your window perf.
Design Options
PMS Color Match
Custom Shapes
Rounded Corners
Size
Big or Small, We Do It All!
Window Perf for storefront windows comes in sizes up to 54" x 20' in a single, seamless sheet. Window Perf for vehicle windows comes in sizes up to 36" x 20' in a single, seamless sheet. If you need a see-through graphic bigger than that just let us know. We can custom make any size you need!
The most popular sizes:
12" x 18"
12" x 24"
18" x 24"
24" x 36"
48" x 96"
Shape
We custom cut more shapes than any other sign company! TheSignChef.com will cut your window graphics to ANY custom shape.
Pictured below are a few custom sign shapes, if you need a unique shape simply let us know.
Frequently Asked Questions

about Perforated Window Graphics
Sure!
We're well equipped with product and personnel to manage rush orders - we'll bend over backwards to assist your small business in getting the graphics you need!
The minimum order for a custom window perf is simply one!
If any product from us contains production problems, please contact Customer Support via Live Chat or phone us at 1-800-899-6272 immediately.
Manufacturing defects come under our Workmanship Guarantee, therefore we will replace your sign at no cost. If you try to contact us after business hours, you can e-mail us at service@thesignchef.com and we'll respond after business hours resume.
Absolutely!
You can get virtually any design or color scheme you want.
We sure do!
The more custom window perfs you order at once, the less every single one will cost you. Reach more people for a more cost-efficient price!
Once you approve the finished design and layout online, your order will ship within just 24-48 hours!
Unusual requests and large quantity orders usually ship within 3-7 normal business days. If your order is time sensitive, please confirm the particular turnaround time with Customer Service at 1-800-899-6272.