Foam Core Ultra, a Durable Solution for Foam Core Signs
It's Stronger Than Regular Foam Core
Foam Core Ultra is more resistant to scratches and dents than paper, cardboard, or regular foam core
Foam Core Ultra Supports Any Design
Any design, photo, or logo can be successfully displayed on Foam Core Ultra
Display Your Information on the Move
Foam Core Ultra is light enough to transport, yet rigid enough to stand, making it perfect for trade-shows, projects, or presentations
Promote While You Save
Foam Core Ultra is one of the most inexpensive ways to communicate to your target audience
Fit Your Needs
Whether you need a custom shape, a special color, or a unique size, Foam Core Ultra can be ordered to fit your needs
When the sun starts
frying
the beautiful colors on your new Foam Core, which level of
Solar Protection
will your signs need?
Download Information
View Our Foam Core Examples
Product Information

for Foam Core
Fast Facts
Coated in high-quality smooth plastic on both sides.
Made of 3/16" foam.
Completely waterproof.
Recommended for indoor and temporary outdoor use.
Lightweight and easy to transport.
Ideal for use in presentations.
Resistant to dents, scratches, and imperfections.
Economically priced.
You can get any size, color, and some custom shapes.
Any design, artwork, photo or logo can used.
Foam Core Ultra
Foam Core Ultra signs are a far superior version of regular foam core signs. They are coated with a thin, solid and perfectly smooth plastic for added strength and durability so your designs look perfectly professional longer than with standard foam core.
Add durable visual aids to presentations or product displays.
Replace faded or damaged posters.
Resistant to dents, scratches, and imperfections.
Light in weight for easy transportation or display changes.
Waterproof - great for indoor or temporary outdoor use.
Any design, artwork, photo or logo can be used.
What You Should Know About Custom Foam Core Ultra Signs
You may think you're familiar with this material, but you're not. That's because Foam Core Ultra is a unique material exclusive to TheSignChef.
Regular foam core, commonly used in school presentations, is comprised of a foam interior covered with a smooth paper coating. You're probably asking yourself, "Why would I ever want a paper sign?" You wouldn't! That's why here at TheSignChef, we only offer Foam Core Ultra custom signs.
While regular foam core signs are delicate and easily susceptible to damage, Foam Core Ultra is much more resistant to scratches and indentations and banged-up corners. Foam Core Ultra is still lightweight and economically priced, (in fact, Foam Core Ultra costs no more than regular foam core!) and it's also completely waterproof and durable enough for handling and transportation. Foam Core Ultra is a popular sign material for corporate and sales presentations, mission statements for office lobbies, tradeshows and mounting posters.
Design
Available Design Options:
PMS Color Match
Custom Hole Placement
Rounded Corners
Dry Erase Laminate
Reflective Colors
Colors
We offer more colors for Foam Core Ultra Signs than anyone out there on the web!
You can now choose from ANY color under the sun when designing your new signage.
You can even choose a reflective color.
PMS Color Match available on most materials.
Sizes
Big or Small, We Do It All!
While most sign companies are setting limits to what size your Foam Core Ultra Sign can be, we print Foam Core Ultra Signs in every size.
Foam Core Ultra Signage from TheSignChef comes in sizes up to 4' x 8' in a single, seamless sheet.
If you need a sign that is larger than that. Just let us know, and we'll make sure to get you any size Foam Core Ultra Sign you need.
The most popular sizes available for custom Foam Core Ultra Signs are as follows:
10" x 12"
12" x 18"
18" x 24"
24" x 36"
48" x 96"
Foam Core Ultra is a versatile sign material and we here at TheSignChef.com want you to know all there is to know about it. We have produced a small collection of videos to help you decide if Foam Core Ultra is the right sign material for you and your new sign.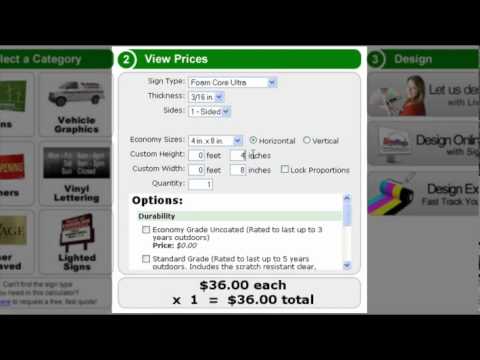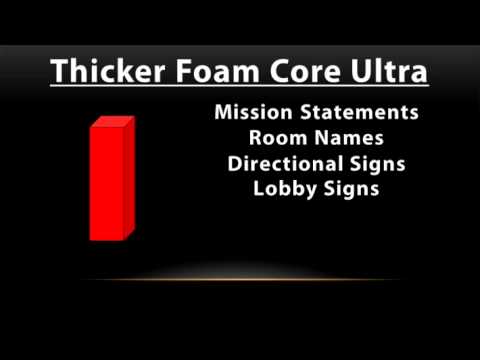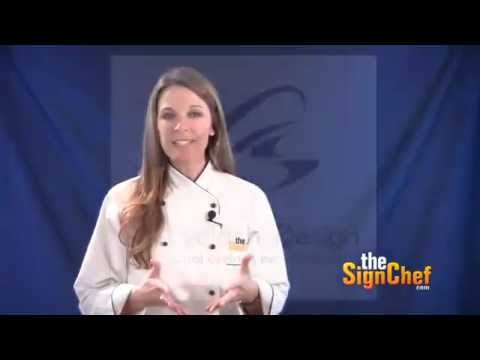 Installation
Displaying Foam Core Ultra Signage is easy!
We offer installation kits and accessories that will help you mount your new sign to wood, metal, stucco, brick masonry or concrete!
We can drill holes to the top of your sign to simplify the hanging process.
Selection of screw caps are available for a finished polished look.
Adhesive backing available on small and lightweight signage.
We have a complete collection of sidewalk A-frames.
Frequently Asked Questions

about Foam Core