Order Street Banners from TheSignChef.com
Enduring Value
Add enduring value to your brand with distinctive options shown in our pricing calculator
Vibrant Colors
Every street banner is printed in full color at no extra cost
Variety of Finishing Options
Choose from nine different finishing options
Don't Over-Buy or Under-Buy!™
Select the street banner that best suits your needs
Design Satisfaction Guarantee
Free proofs are provided for your review and approval prior to production
When the sun starts
frying
the beautiful colors on your new Street Banners, which level of
Solar Protection
will your signs need?
Download Information
View Our Street Banners Custom-made by TheSignChef.com Examples
Product Information

for Street Banners
Fast Facts
Here are the key points to know about custom Street Banners:
Street Banners are readily available in a high gloss finish for vibrant color.
They are perfect for special events, festivals, sales, and seasonal promotions.
Street Banners are easy to hang and display.
They are suitable for use as temporary outdoor signage, lasting up to 5 years outdoors.
Street Banner signs can be one-sided or two-sided.
Street Banners are completely waterproof.
They have a high tolerance to wind, cold and hot weather extremes.
You can get any size you want.
They can be cut into virtually any shape.
Any design, artwork, photo or logo can be used in the banner design.
And you can use virtually any color you'd like.
Installation
We offer a wide variety of installation kits and accessories to help you hang your street banner. We can place holes or grommets at the top of your street banner to simplify the mounting process.
Popular accessories for displaying street banners are:
Banner Rope
Banner Suction Cups
Banner Cable
If you aren't certain what tools you need to install your street banners, we'll be happy to make recommendations.
Prices
Sometimes, all you want is the bottom line!
Our online Street Banner pricing tool instantly calculates the exact prices on custom Street Banners.
At TheSignChef.com, shipping for Street Banners and all other indoor and outdoor signs is free.
Orders outside the state of South Carolina are tax-free!

We do offer quantity breaks at 1, 2, 3, 4, 5, 10, 15, 20, 25, 50, 100, 250, 500, 1000, 2500 and 5000.
Custom Street Banners
When you are looking for a flexible, versatile and economical way to display a message or promote an event, custom vinyl street banners are an ideal choice.
Modern vinyl banner printing processes have made full color; custom street banners an especially inexpensive and highly professional product that you can use anytime and anywhere to promote your festival or event. Street banners are most commonly hung over a street, or on a lamp post or street pole along the side of the road or business complex.
Most municipalities now have strict rules regarding how over-the-street vinyl banners are to be made. It's a matter of public safety. We know these requirements and routinely provide street banners for special events, parades and festivals.
Size
The most popular sizes for street banners are:
2' x 4'
2' x 6'
2' x 10'
3' x 8'
3' x 6'
3' x 10'
3' x 12'
4' x 8'
Shape
The most popular shape for a street banner is a square or rectangle (horizontal and vertical).
Thickness
Street banners should be made of 20-ounce, extra heavy duty, block-out vinyl banner material with super tough webbing sewn into the hem for extra reinforcement. For maximum durability and wind resistance, street banners should have hems and grommets placed every two inches. Wind slits substantially reduce wind loads and are usually required by municipalities for all street banners.
Available Finishing Options:
Style A: Hemmed edges with grommets at the top and bottom as needed. (Number of grommets needed depends on banner size)

This is the most common finishing, and is useful for a variety of applications. It is best for mounting against a wall or fence.

Style B: Hemmed edges with grommets at the top and bottom as needed, with rope sewn into the top and bottom hems. The rope ends extend out from the banner edge making ties. Rope length can be specified.

This finishing style adds versatility and strength to the basic grommet style, allowing the banner to be tied between poles or other secure fixtures.

Style C: Hemmed edges with rope sewn into the top and bottom hems. Rope extends from banner making ties. Rope length can be specified.

For vinyl banners tied between secure fixtures, this has strong construction, as it spreads wind forces over the length of the banner.

Style D: Hemmed sides with webbing sewn into top and bottom. Webbing extends as needed for ties.

This is an even stronger construction for vinyl banners that may be subjected to higher wind loads.

Style E: Hemmed sides, webbing top and bottom with grommets spaced as needed (depending on banner size).

Adding grommets offers more tie down points. This is especially helpful to support larger vinyl banners and to eliminate sagging. (Make sure the supporting structure will allow for it.)

Styles F: To support banners on hardware, sleeves can be sewn into the top and bottom of the banner. The sleeve can be sized to fit the hardware: the circumference (dia. X 3.14) of the supporting pole divided by 2 plus an inch will calculate a good sleeve size.

Style G: Grommets can be added to the top and bottom in an extra extension above and below the sleeves for more versatility in display options.

Style H: Street banners (or light pole banners) are usually finished with top and bottom sleeves with a grommet just below the top sleeve and just above the bottom sleeve.

Style I: For a very strong construction which will be attached using ties you supply, sewn in webbing with "D" rings offers a very reliable solution. When adding tie points to large vinyl banners, grommets can be added to the top and bottom, or even on the sides.

All vinyl banners can be used indoors or out. How the banners will be used (displayed), normally prescribes how the banner is finished. When displaying banners outside, always think safety first. Be sure the supporting structure is sound. Vinyl banners hung out in the open can be subject to significant wind loads. Be sure you secure your vinyl banner well using the instructions included with your order.
Design
The design of your street banner is more than just layout and colors. It is also important to factor in letter size. We provide a letter sizing calculator so you don't have to guess whether or not your street banner will be readable.
Color
You can choose from any color for your street banner. Street banners are available with a high gloss finish. We print all of our street banners in full color. We do offer PMS Color Match.
Watch our instructional videos about street banners to learn more about selecting thickness, size, shape and design, as well as stress-free installation.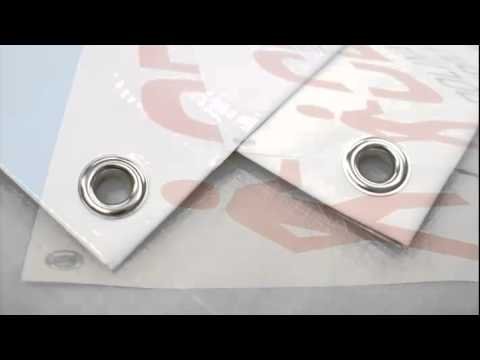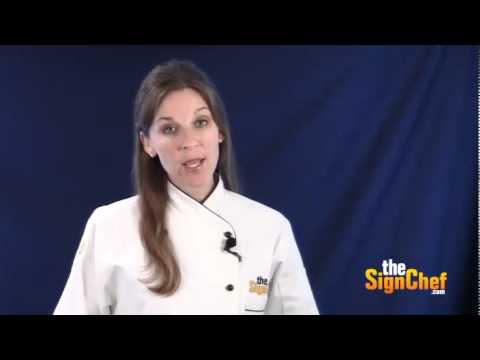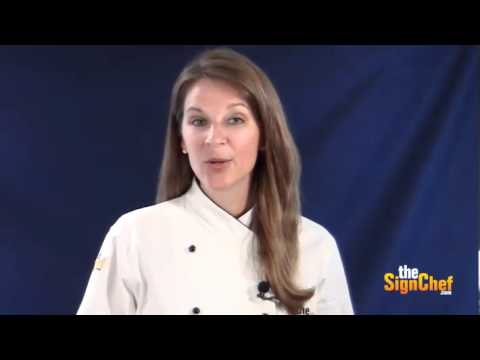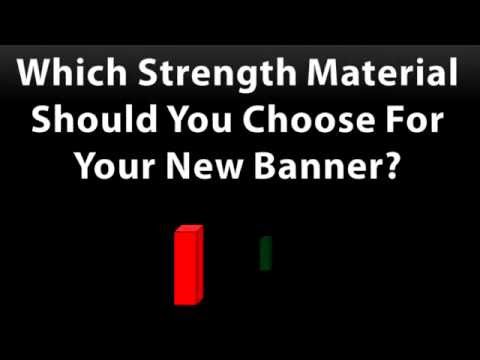 Frequently Asked Questions

about Street Banners