Brushed Aluminum Business Sign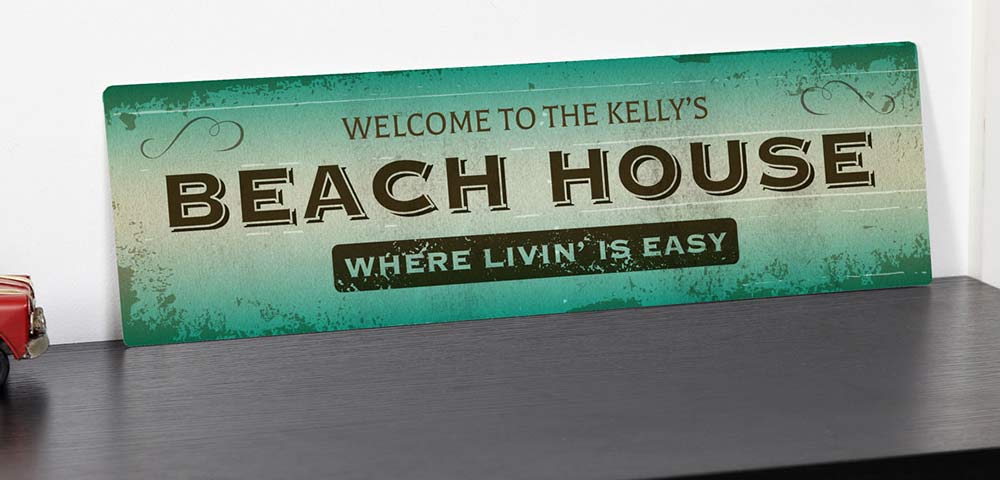 Indoor Aluminum Decorative Sign
Aluminum Sign with Vinyl Overlay
Aluminum Signs
Aluminum Signs are a Perfect Choice for all Business and Promotional Needs, Indoors or Outdoors!
Aluminum signs, with their style, durability and longevity have been the "go to" sign material since the beginning of sign making history. Custom aluminum signs are highly resistant to the elements making them a great investment for a long life in advertising your business or promotion. Because of its assortment of features and functions aluminum is highly customizable, making it the perfect choice regardless of the application.
Aluminum signs are thin and lightweight, rigid yet still flexible, and perfectly smooth. Their rustproof, waterproof, and chemical resistance qualities make it an ideal choice for exterior application. Regardless of its thicknesses (and we offer five thickness options for you to choose from) custom aluminum signs are easy to install. And with a variety of mounting options we can help you with a seamless installation. Aluminum signs are available in any size, from the smallest 3"x6" to a hefty 72"x144" and even larger. We are here to provide you with the best sign imaginable. We are dedicated to being a leader in the sign industry and to producing aluminum signs that will exceed your expectations of quality and style.
Aluminum Signs Perform in All Locations
Indoor Aluminum Signs: Aluminum signs aren't strictly for outdoor use. Indoor aluminum signs are one of the best options for high quality, but affordable interior signage. With countless options when it comes to designing, styling or hanging your new aluminum sign, finding the right aluminum sign for your interior space will be quick and easy. Give your new custom sign some personality - choose from our selection of thicknesses and finishes or add rounded corners for a variety of looks. If you would like something totally unique you can even have your sign made in a custom shape. Indoor aluminum signs will last decades with proper installation and care.
Outdoor Aluminum Signs: Finally, a sign material that does not rust or decompose. Outdoor aluminum signs are strong, yet lightweight and are still one of the most durable sign materials available. Aluminum's resistance to damage from weather, water, and chemicals makes it a superior choice for exterior sign applications. Because of easy installation, outdoor aluminum signs can be placed where ever signage needs present themselves. Custom aluminum signs wall mounted, post mounted or hanging are great tools for exterior business signage and event promotions.
Aluminum Sign Highlights
Rigidity: Thin and lightweight. Rigid but still flexible. Rigidity depends on the aluminum thickness.
Thickness: We offer 5 thicknesses: .032", .040", .063", .080", and .125"
Details:Thin, lightweight, corrosion resistant. Can be printed on both sides and cut into any shape.
Uses: Indoor/Outdoor. Real estate, property signs, directional signs, safety & regulation signs, road/parking signs
Indoor Lifespan: Decades.
Outdoor Lifespan: 2 - 10 years, depending on chosen durability rating.
Common Sizes: Anything from 3"x8" to massive 14 foot signs.
Aluminum Sign Installation and Maintenance
Installation: Aluminum signage can be hung, installed on a wall or placed in stands or frames. Holes can be easily drilled using a metal drill bit. Use rope, string, or bungees to hang, use screws with washers to attach to wood or concrete or use nuts and bolts to attach to posts.
Care: Simply wipe your aluminum signs with soap and water using a non-abrasive cloth. To keep the signs from denting or warping, do not install them where heavy winds could blow them into other objects.
Design or Price Aluminum Signs
Get Sign Pricing
Start Sign Design
Unlimited proofs with every sign. We send a proof of your design to ensure 100% satisfaction before we ship.
Free shipping on all Aluminum Signs for orders within the continental US greater than $125.
Other Metal Sign Options
Dibond
Alumalite
ARMOUR-Wood
Custom Aluminum Videos
Here at TheSignChef.com we are always trying to provide you with all the information you need to make the correct sign choice. Below are a collection of videos specific to aluminum and its options as well as outstanding qualities. You can find videos on size, thickness and shape options. If you have any questions after viewing please feel free to contact us. We will be happy to assist with any of your needs.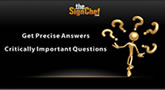 Introduction to Aluminum Signs
1:21min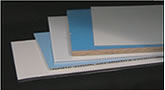 Aluminum Signs Up Close
4:29min
What Size Can My Aluminum Signs Be?
2:52min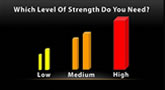 How Thick Should Your Aluminum Signs Be?
3:21min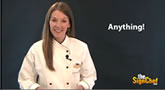 Aluminum Signs - Can I Get Any Shape I Want?
2:20min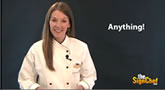 What Else?
0:48min
More Information on our Aluminum Signage
Just how quickly can you produce a custom sign for me?

Once you have approved your final design we usually have your sign produced and ready to ship within 2 business days.

Large orders and special sign requests normally ship in 3-7 business days. If your order is time sensitive, please authorize the exact turnaround time with Customer Service at 1-800-899-6272.



Would you help me with a rush order, even for aluminum?

We would be happy to help you with your rush processing on our aluminum signs! The fastest way for us to help you will be for you to call us at 1-800-899-6272.



How thick are your aluminum signs?

We offer aluminum signs in five thicknesses and can help you pick the right thickness for your application. The thicknesses we offer are .032", .040"(the most common), .063", .080", and .125". The thickness you need will come down to the size of your sign and where and how it is being mounted. Take a look in our video section for a quick tutorial on picking aluminum sign thickness. If you have more questions, our staff would be happy to help you out.



Is shipping really free?

Yes. Any sign order over $125 comes with free shipping. Even if your aluminum sign is 10 feet long and requires a custom built crate and freight shipping, it is free.



Are your aluminum signs reflective?

Our aluminum signs are not reflective by default, but reflective coatings can be applied to them. You can see the coating options by using out SignExpress pricing calculator.



Can I just drill my own holes?

You can absolutely drill your own holes, but if you mess it up, we will not repair or replace it under warranty.



Can I get holes drilled in custom locations?

Yes, the standard for drilled holes is one in each corner. Drilled holes are typically 3/8 inches in diameter and set .5 inches from the edge of your sign. If you need more than the standard 4 holes you can note this request on the checkout page in the customer comments field. Additional holes, within reason, are free. Requests that exceed reasonable limits may be subject to additional charges.



What sizes of aluminum signs do you offer?

We offer aluminum signs in any size up to 140". If it is acceptable to spread your sign over multiple sheets of aluminum, then we can make it as big as you want. We can even cut it into any shape you can imagine.



What is the lifespan of your aluminum signs?

With proper care and placement, a standard aluminum sign should last at least two years. We offer protective coatings that can extend the life of your sign up to 5+ years.



Will my colored design mean the sign will cost more?

All of our signs are printed in full color. Therefore, regardless of what your design might be, it will not impact the cost of your sign. Sign costs are dictated by sign type, size and quantity.



Will the sharp edges of the sign be dangerous?

We can round the edges of your sign if you prefer. Just let us know the radius you would like.



Do you offer double sided aluminum signs?

Yes, any size aluminum sign can be printed as a doubled sided sign. Simply select the double sided option when designing your custom aluminum sign on our design tool. If the back side of your sign has a different image/design than the front side, please contact us to send us the file for the back side after completing your order online.



What are reinforced core aluminum signs?

Reinforced core aluminum refers to a product called Dibond that is basically two thin sheets of aluminum sandwiched around a core of plastic. We offer Dibond signs, if you prefer. In most cases, regular aluminum is more than strong enough. We have unbeatable prices on slightly thicker aluminum sheets that will ensure that your sign is plenty strong for your application.



Can I get my aluminum signs routed into specific shapes?

Yes, any of our aluminum signs can be custom cut. We call these cuts "Contour Cut" and "Halo Cut". Contour cut will mean that is cut or routed to the exact shape of your design. Halo will but cut/routed to your shape but will leave a small border around the edge of the design. These options can be selected on the design tool during the design process so that you can personalize your aluminum sign to whatever you might need or want.



Do your aluminum signs have a matte or gloss finish?

Our aluminum signs have a smooth semi-gloss finish. Though where printed the signs will have a very mild matte finish.



Do you print onto the aluminum or is there a piece of vinyl overlay?

We can do either. Simply let us know which you would prefer.



Can my sign have a protective laminate?

Yes, though any kind of laminate covering will cost a bit extra. Check out our SignExpress pricing calculator to see the options.



What color is the aluminum? Do you offer brushed aluminum?

We offer both.



I'm looking for custom dibond signs.

No problem! Simply head on over to our Dibond Page!



Are aluminum signs the same thing as metal signs?

Aluminum is a metal, so yes. It is a commonly used sign material because of its low cost, light weight, strength, and corrosion resistance.



Will my aluminum sign rust?

The short answer is no. Rust is what happens to iron and steel when they are oxidized. Most all metals experience oxidization, but the way they respond to it can be drastically different. Iron and steel change color and expand, which is what causes the red/orange flakes that we are all familiar with. As the flakes chip away from the metal, more metal is exposes which is in turn oxidized. Aluminum behaves very differently. Aluminum Oxide is the product of aluminum oxidation, and forms a hard barrier that protects the aluminum from further oxidation. It looks almost identical the the bare aluminum, and so this why people say that aluminum doesn't rust. With proper care, your aluminum sign will look perfect for many years.



Will my aluminum sign bend?

The thickness and size will determine how flexible your aluminum sign is. The larger the sign, the more flexible it will be. This is why we recommend choosing the thickness carefully and taking the overall size into consideration. The way the sign is mounted will play a part as well. If it is mounted flat against a wall, you can get away with very thin aluminum because the sign will not be under any stress. If it is outside and mounted to one or two posts, on the other hand, you will need thicker aluminum. You can also reinforce it by attaching a middle post (for very large signs) or adding some kind of bracing or framing, but it is usually easier to just select a thickness that is suitably rigid.



Can aluminum sign be used outdoors?

Yes. Aluminum is probably the most commonly used outdoor sign material on earth. Our aluminum signs are fine for outdoor or indoor use.



Will my aluminum signs fade or scratch?

All of our aluminum signs are printed with weather, fade and abrasion resistant ink. Your signs shouldn't fade or scratch through normal usage. Having said that just like with any other paint on metal, such as a painted car, if you intentionally or unintentionally scratch with a sharp object it is most likely going to scratch the surface and/or printed portion of the sign.



What can the aluminum signs be used for?

Aluminum signs are one of the best and most versatile outdoor signage options there is. Common uses for aluminum signs include parking and traffic signage, real estate and property management signs, directional signage, no trespassing, smoking and other regulatory signs, safety signs, warehouse and manufacturing signs, restroom signs, home and garden signage, pool and beware of dog signs and many other uses. In addition to these uses. many businesses use them as exterior signage at the business' location.



Can your aluminum signs be used with metal frames?

Yes, the aluminum signs can be used with metal frames. Though we do not currently offer metal frames, any standard frame should work with our aluminum signs assuming correct sizes are used.



How do I install my aluminum signs? / Where can I post my sign?

Aluminum signs can be affixed or mounted on a number of different surfaces. Essentially any rigid surface including brick, concrete, drywall, wood, metal, etc. can be used to mount your signs. Sign posts of the same materials can also be used. To install your signs you'll need to drill pilot holes into the surface material and then use screws or bolts to mount the sign. If you did not select drilled holes when you ordered your signs you'll also need to drill holes into the sign itself.



Can I design my signs online with any layout I want?

Absolutely!

You can choose almost any design or color combination you would like on your custom aluminum sign. For more details feel free to call or email us.



What exactly is the minimum quantity I can order?

The minimum order for a custom acrylic sign is just one!

We offer quantity discounts beginning at the second sign. Of course, the more signs you purchase together, the greater your savings will be (like with all of our custom signs).



Do you offer any quantity reductions?

Yes, definitely!

The easiest way to get cheap acrylic signs is to buy a bunch of them! The more you purchase, the less every single one will cost you. You'll be able to reach a better number of people for a more cost-effective price!



What if my sign comes with a defect?

If your signs or some other product shows up broken or includes production defects, please contact Customer Support via Live Chat or call us at 1-800-899-6272 immediately. Manufacturing defects fit in our Workmanship Guarantee, so we will replace your sign free of charge.

If you try to contact us after business hours, you are able to e-mail us at service@thesignchef.com and we'll respond after business hours resume.