3D Letters, Any Size and Color for Your Business
Call us at 1-800-899-6272 for prices and
3-D Letter options!
3D Letters Have Plenty of Applications for Any Industry
They will help your business stand out from the rest of the competition. These multi-sized letters will make your business known in your neighborhood or city.
3D Letters can come in various shapes, sizes, and price ranges. But you can be sure that they will attract attention wherever you use them. The 3d Lettering of your choice can be made of various materials. You can choose among copper, bronze, steel, stainless steel, and brass. The material that you use will determine the price of the letters that you have chosen.
The various materials used have their own pros and cons it is up to you to use the material that you think will draw the most attention to your business. You must also choose a material that will not easily erode and rust. There are several elements that can erode the metal that you have chosen such as weather, human touching, time, and temperature. Choose a material that you think can withstand these factors that can easily erode it.
3D letters can also be customized into different font types of your choice. You can use Helvetica, Times New Roman, Calibri or other font types that you want. You can also customize the design of the letters that you choose. You can have metallic animals for your zoo or colorful letters for your nursery. There are plenty of things you can do once you purchase dimensional letters.
When you choose the design and materials that you want for your letters you should be aware of the following things:
You should choose a material that can last long and can withstand different kinds of weather conditions.

Choose a spot that is visible to a lot of people when you put up your sign so that you will be able to draw attention to your business easily.

You must pick a font that will draw attention to the signage of your business. The font is important because if it is hard to read, no one will notice your business or product. People will easily block out the sign if they have a hard time reading its first few letters.

The size of the letters you choose is important because it will determine if potential customers or visitors will be able to read the signage that you use. The size of the sign will be able to give the necessary information about your product and what business you do.

The images that you use play an equally important role when you put up a sign. The images that you use must be associated with each other so that there is no disconnect between what you are saying and what you are selling. It is important to give all of the necessary information through your sign to avoid confusing customers.
You can also use 3D letters for addresses. You can have your home or business address in 3D letters. You can also choose the paint and design that the letters will come in. You can entice your visitors to come in once they see the 3D letters on the entrance of your establishment.
You can increase the visibility of your establishment or profession when you use dimensional letters. You can be sure that your customers will be enticed to use your services or products when they see the 3D letters on your entrance.
There are plenty of benefits to be gained from using 3D letters. Here is a list of benefits that you can expect when you use dimensional letters:
3D letters will help your business or establishment look professional. The name of your business will look snazzy when you use dimensional letters on your entrance. People will think that your company or establishment is world class once they get a load of the 3D letters on your entrance.

Dimensional letters will make your sign more visible and eye catching. The size and design of the 3D letters that you use will draw attention to your establishment. You can be sure that the signs you use will make your business appealing to your intended target market.

You can choose the design and colors that you want to make your business enticing to your target market. You can be sure that the right color and design will help draw more attention to your business establishment.

A sign will add more value to your business establishment. The message you send to your target market is important that is why you will need a sign to draw more people to your store.
3-D Letter choices :
Injection Molded
Formed Plastic
Cast Metal
Cut Metal
Cut Plastic
Metal Laminate
Fabricated Metal
Big or Small, We Do It All!
While most sign companies are setting restrictions to how big your 3-D Letters can be, we are producing dimensional letters in every size imaginable!
Call us at 1-800-899-6272 for sizes and 3-D Letter options!
Available Design Options:
Variety of Finishes
Changeable Copy
Numberous Font Options
Various Mounting Options
Reflective Colors
Sometimes, all you want is the bottom line!
Call us at 1-800-899-6272 for prices and 3-D Letter options!
We offer more colors for 3-D Letters than anyone out there on the web!
You can now choose from ANY color under the sun when designing your new 3-D Letters.
You can even choose a reflective color.
Displaying 3-D Letters is easy!
We offer installation kits and accessories that will help you mount your new sign to wood, metal, stucco, brick masonry or concrete!
These are some of the benefits you can get from using 3D letters for your sign. Dimensional letters will help you get the visibility you need to increase your customers and earn more money.
Call us at 1-800-899-6272 for prices and
3-D Letter options!
Below are just a few examples of the quality work we produce. Every week we ship out hundreds of custom signs, banners and sign products, for now here is just a sample to whet your appetite. Here at TheSignChef.com we strive to make the best product at the best price. We take pride in every sign, banner and product we ship out. If you are interested in seeing more designs or finished signs check out our photo gallery. There you can find examples of countless signs and banners.
Examples of great 3D Metal Letter designs:
View more samples in our photo gallery >
Custom 3D Letter Videos
Any questions you have about 3D Letters is answered in the custom videos below. We create videos based on actual customer questions and feedback and offer the same answers to you. The common question is about installation on a variety of surfaces, so we have included videos that address installation on most surfaces. Included also, is how to care and clean your new 3D Letters. If you have any questions or find that your issues are not addressed in these videos please feel free to contact us. We are always glad to assist with any of your sign needs.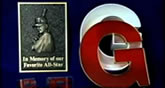 How to Care for Your 3D Letters
2:27min
Mounting Options to Consider when Ordering 3D Sign Letters
7:02min
3D Sign Letter Installation with Mounting Patterns and Spacing Tape
2:25min
More 3D Sign Letter Mounting Options
1:47min
Installing 3D Sign Letters with a Rail Mount
1:07min
Installing 3D Sign Letters on an Uneven Surface
2:27min
Installing 3D Sign Letters on a Brick Wall
1:47min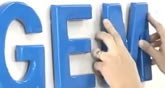 Installing Combination Mounted 3D Sign Letters
3:01min
Installing Pad Mounted 3D Sign Letters
2:55min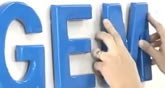 Installing Your New Plastic 3D Letters with a Stud Mount
2:56min
Installing Pad Mounted 3D Sign Letters
2:55min
Frequently Asked Questions About Custom 3D Letters
"How fast can you produce custom 3d letters for somebody?"
We make custom 3d letters fast. As quickly as you approve the finished design online, your custom 3d letters will dispatch within just 24-48 hours!
Special signs and large order requests normally ship within 3-7 normal business days. If your order is time sensitive, please confirm the particular turnaround time with Customer Service at 1-800-899-6272.
"Is it possible to assist me with a rush order, even for custom 3d letters?"
Positively!
Were well furnished with product and staff to take care of rush orders for a wide array of custom 3d letters. If you end up in a bind and desire your custom 3d letters fast, we'll bend over backwards in our power to aid your small business to obtain the custom 3d letters you would like, when it's needed!
"Can I have my custom 3d letters personalized online with any graphic I want?"
Positively!
You can get just about any design or color combination you would like for your custom 3d letters.
"Exactly what is the minimum order for custom 3d letters?"
The minimum order for a custom 3d letters is simply one!
Quantity price breaks start with as few as two custom 3d letters. Naturally, the more you purchase at once, the better you'll save (as with all our custom signs).
Although custom 3d letters are offered by other sign companies, we're not a huge fan of using PVC Plastic Sign material outdoors. PVC Plastic Signs are responsive to solar heat which might result in the plastic sign material to warp. Plus, there's not any price savings above the predictable qualities of aluminum.
"Do you have any quantity reductions for custom 3d letters?"
Certainly!
The greater number of custom 3d letters you choose, the less each one will cost. Which means your custom 3d letters can reach a better number of individuals for a more cost-efficient price!
"What if my custom 3d letters arrive that have a flaw or is damaged...what can be done?"
If your custom 3d letters or another item arrives defective or has production defects, please call Customer Service via Live Chat or call us at 1-800-899-6272 immediately. Manufacturing defects fit into our Workmanship Guarantee, so we will replace your sign at no cost.
If you are trying to contact us after business hours, it is possible to e-mail us at service@thesignchef.com and we'll respond as soon as business hours resume.