Missouri, acrylic signs St Louis MO, signs St Louis MO, acrylic signs in St Louis, acrylic signs, acrylic plastic sign, acrylic signage, Missouri signs, clear plastic signs
Acrylic Signs St Louis MO - Free Shipping to Missouri
Free Shipping on Acrylic Signs to St Louis, MO!
---
Acrylic signs have exploded in popularity over recent years. Their high gloss surface reflects a feeling of quality and professionalism.
are inexpensive to purchase, yet extremely durable and high-end in appearance. They are often used inside offices, shops, or anywhere you need to professionally display a message.
We offer a wide selection of fully customizable acrylic signage options — more than any other sign company! In addition, our clients have complete access to our unique online tools, three-pronged customer service package, premium triple guarantee, and much more!
And not only do you get totally free shipping on acrylic signs to St Louis, we will save you money right up front by paying your sales tax for you!
Let's get to it! Use our instant pricing calculator to see your pricing options right away OR begin designing now.
You should know a few main things about custom Acrylic signs:
Acrylic signs are very versatile,
as they may be used inside or outside
Acrylic is a UV resistant, strong,
outdoor plastic sign material
The material is waterproof
Acrylic is ideal for lighted sign displays
Acrylic has a high tolerance for cold
and hot climate extremes
The Acrylic sign surface has a shiny,
high gloss appearance
Small Acrylic wall signs come standard
in 1/8" thickness
Medium size acrylic plastic signs are
usually 3/16" thick
Acrylic business signs are best suited
for lettering on a single side. For
two-sided signs, it's better to use


PVC

,

Aluminum

or

Dibond

.
Transparent plastic signs are popular for
office signage
The clear acrylic sign material is available
up to 1" thick
Acrylic Signs are easy to display and mount
Plastic signs will last indefinitely
inside
Acrylic wall signs also come in
matte and frosted finishes
Acrylic is a common alternative to PVC Plastic
Signs
Plus, Acrylic Plastic signs are
extremely customizable
You can order any size you want
Acrylic custom signs can be cut
into practically any shape
Any design, artwork, photograph or logo may
be used
And Acrylic comes in virtually any color
imaginable. (Including clear!)

Sometimes, all you want is a fast price quote!
Our online Acrylic sign pricing tool instantly calculates the exact prices on custom Acrylic signage in St Louis, MO, shows you quantity discounts, and even enables you to compare this product to other plastic sign alternatives!
And remember…at TheSignChef, shipping on Acrylic signage and all other indoor and outdoor signage is free, and orders to Missouri are tax-free!
We offer more colors for Acrylic plastic signs in St Louis than anyone else out there on the web!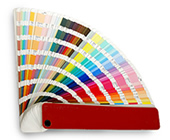 The Acrylic sign material itself comes in various standard, High Gloss Brilliant colors. We also offer the very popular clear Acrylic plastic sign! In recent years, the raw materials and manufacturing processes of Acrylic sheeting have greatly improved, making the pigments in Acrylic signs maintain their colors better than ever before.
If the Acrylic material does not come in the color you want, no worries! The magic of digital printing is the solution. You can now choose from literally ANY color imaginable when designing your new plastic signage in St Louis, MO!
Big or Small, We Do It All!
While most sign companies in Missouri are setting restrictions on what size your Acrylic plastic can be, we are printing Acrylic signs in every size imaginable!
Acrylic signage from TheSignChef comes in sizes up to 8' x 20' in a single, seamless sheet. This is the absolute largest, rigid, seamless sign panel available on the market today. If you need a sign that is larger than that, no worries! Just let us know, and we will be sure to provide you any size Acrylic plastic sign you need.
We cut more custom shapes for Acrylic plastic signage than any sign business out there!
Unlike other sign companies who only create typically shaped plastic signs, TheSignChef will cut your Acrylic signage to absolutely ANY custom shape you desire! We cut distinctively shaped signs every day!
Shown below are a few custom sign shapes to give you some ideas. If you want an Acrylic sign in an even more atypical shape, just let us know. We'll make certain you get precisely the custom sign that you're looking for! There is no extra charge to cut plastic to a custom or odd size.
Displaying acrylic signs in MO is easy! Acrylic business signs are lightweight, thin and easy to install with screws, double-sided tape, adhesive or a blind fastener system available in our shopping cart. If you choose to simply screw your Acrylic sign into the wall, we offer screw caps to hide exposed screw heads and give your sign a more professional or "finished" look.
Also, the use of stand offs is very popular when displaying custom Acrylic signage. This corporate hardware is used to stand the sign off the wall. (As pictured to the left.) If you would like to use stand-offs, make sure to tell us and we will put holes into your new Acrylic wall sign. Or if you don't wish to drill into your side grip stand offs instead! All of these mounting accessories can be found and added to your cart from our Pricing Calculator or in SignMagic. Plus, And you can always speak with one of our customer service representatives and they'll assist you in determining what style of mounting hardware is ideal for your particular sign.
, you can use
My entire experience with TheSignChef was a great one.
If only other businesses would follow your model. Our economy would have fewer woes.
There are no complaints just praises. From the customer service reps to final delivery the process was great. The proof process was seamless. The final product was great and has received several compliments.
I believe that we'll be using you again to produce a similar sign for the club's 100th anniversary next year.

Warm regards,
Mike
The Players Club of Swarthmore
Swarthmore, PA

I was extremely pleased with the whole sign buying process on your site.

Designing and ordering was so simple. Instant help was available if I needed it. Delivery time was lightning fast — especially for a custom sign, and the quality was superb. It is taking us longer to put the sign on a pole than it did to get the sign from your company! :)

I think your customer service is one of the best I've seen.

Cindy Donathan
Old Castle PreCast
Hartford City, IN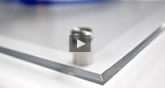 Acrylic Signs Up Close
4:05min
Live Design Demo for Acrylic Signs
3:26min
Frequently Asked Questions About Acrylic Plastic Signs
"What finishing options do I have for my Acrylic Signs in St Louis?"
Usually, Acrylic custom signage is finished with a bevel effect. This gives it a nice, professional appearance that looks great on doors and in hallways in St Louis, MO.
Because most small Acrylic signs are hung on doors and in hallways, they include pre-drilled holes in the corners for screw mounts. The installation is usually done by a contractor or handy man.
Though we do not provide the screws, we can drill the holes to any specification provided it will not damage the Acrylic signs.
"What are some common uses for acrylic signs in MO?"
are commonly used in office lobbies and hallways, upscale retail stores, as hanging signs, wall signs promotional signs, sale signs, directional signs, point-of-purchase signs, identification signs, high-end trade show signs, interior signage, exterior signage, or anywhere you need to professionally display your message.
Business signage is an ideal way to advertise your business or organization in St Louis, but for additional ideas for promoting your business, take a look at the U.S. Small Business Administration's website.
"How do I know that my custom Acrylic sign will turn out the way I want?"
Are you concerned that your custom Acrylic sign won't turn out the way you expect?
How can you be certain your order will turn out right? Fortunately, it only takes seconds to transmit full-color custom Acrylic sign designs from our computer to yours because technology travels so quick these days.
Once your order is approved, here's how the process works:
First, your order goes directly to the Art Department
Our Graphic Designer will then e-mail you a proof
(a "proof" is a representation of what your sign will look like)
Once you look at the design, let us know if you would like to see any changes, and …
If you have any changes, we will e-mail you proofs as needed until you're 100% happy with your sign.
"Do you offer any buyer protection guarantees?"
Yes! Every Acrylic sign order comes with a 100% Buyer Protection Guarantee
Sometimes, we make mistakes. We're only human after all. But isn't it how a business deals with mistakes that counts? So if we do happen to overlook something on your order, we'll bend over backwards to make you happy. We stand behind our work with a 100% Customer Satisfaction Guarantee.
We'll promptly re-make and send any product that is defective in workmanship or that is different from what you approved. And to make up for the inconvenience, we'll even send you a surprise gift.