Free Shipping for Outdoor Signs in Corbin KY!
Outdoor Signs Corbin KY - Free Shipping to Kentucky
Free Shipping on Outdoor Signs to Corbin, Kentucky!
No matter how LARGE the sign!
And we can make them BIG! In fact, we can customize your outdoor signage any way you want. We offer a very wide range of customizable signage options — more than any other company! PLUS only our clients have full access to our unique online sign tools, three-pronged customer service package, premium triple guarantee, and more!
And not only do you get absolutely free shipping on to Corbin, we will save you money right up front by paying every penny of your sales tax for you!
Let's get started! Use our online pricing feature for an instant quote OR begin designing your sign now.
What are your options for outdoor signs?
3-D Letters – These come in many different materials, wood being the most common. 3D letters can be quite large, so they can be very visible from far away. Plus, they are durable and will help you achieve a very corporate look.
Aluminum – Aluminum metal signs are very strong, yet lightweight. Aluminum can come thinner that any other metal sign materials.
Alumalite – Alumalite is a metal sign panel that's made of a corrugated plastic core with an aluminum sign board sealed onto either side.
Dibond – Dibond is a metal sign composite made of a solid plastic core sandwiched between 2 aluminum sign boards.
ARMOUR-Wood – ARMOUR-Wood is a metal sign composite comprised of a solid wood core sandwiched between 2 aluminum sign boards. This is the strongest metal sign composite.
Coroplast – Coroplast signs are made from a strong corrugated plastic, and it's hollow plastic flutes make it an extremely lightweight sign material. They are waterproof, making them preferable to foam core mounting board, and have a more professional look than poster board.
Dura-Wood – These classic wooden signs are still popular for several reasons. They are very strong and weather resistant. We also use rot-safe wood.
Redwood and HDU – Although these are two different materials (one is natural and the other is man-made), they ultimately achieve a similar look. These types of signs boast a very professional, 3-D look. HDU is a little lower in cost, but redwood signs are stronger.
A-Frames – A-frames (also called sandwich boards) are sharp looking and are a simple-to-install way to display your outdoor signs in town plazas or on sidewalks in front of your store or business. We have a large selection of sizes and styles.
Replacement Faces for Lighted Signs – If you already have a lighted sign cabinet and would like to update it, we offer custom replacement sign faces that insert into your existing sign cabinet.
Channel Letters – Giant, lighted letters, often used by grocery stores and restaurants, are sure to attract customer's attention. They have dimension and are effective both day and night. Channel letters are available in almost any font, color and size.
Need Help Deciding?
If you would like assistance deciding which outdoor sign material is the best for your project, our sign specialists are happy to share their expertise and help you with your decision. Or if you prefer, our Online Material Selection Wizard will ask you a few simple questions — the same questions our sign specialists would ask you over the phone or in person — to help pinpoint the ideal material for your new sign!
What are the most popular types for outdoor signs in Kentucky?
Business Signs
Realtor Signs
Contractors
Commercial Signage
Marine
New Businesses
Directional Signs

Informational
POP Displays
Industrial Signs
Safety
Corporate Signage
Construction Signs
Yard Signs

Parking Lots
Trailers
Exterior Walls
Street Signs
Gates
Fence Signs

Sometimes, all you want is the bottom line!
Our online outdoor sign pricing tool instantly calculates the prices for outdoor signs, shows you quantity discounts and even lets you compare this product to other outdoor sign material alternatives!
And don't forget…at TheSignChef, shipping and handling for free, and there's no sales tax!
in Corbin, Kentucky is
We have more colors for outdoor signs than any other sign company on the web!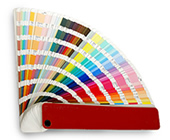 At TheSignChef, you can choose ANY custom color under the sun when designing your new outdoor signage. You can even choose a reflective color!
Specialty metal finishes like brushed gold or silver and mirror gold or silver are available in a standard .040" Aluminum thickness. Or if you would like a thicker sign in these finishes, you can order such sign in our Dibond sign composite, which is made up of two aluminum sheets attached on either side of a solid plastic core.
Big or Small, We Do It All!
We offer an almost unlimited number of sizes for outdoor signs. Depending on what material you choose to use, your outdoor sign can be as large as you can imagine.
We custom cut more shapes for outdoor signs than any other sign shop!
Unlike most sign companies who only cut outdoor signs into standard shapes, we can cut your outdoor sign to ANY custom shape you desire! We cut signs in unique shapes daily! Popular shapes include eye-catching stars or cutting signs to the exact shape of a company logo.
Pictured below are a few custom sign shapes to get your creative juices flowing. If you need an outdoor sign in an even more unique shape, just let our sign specialists know and they'll make sure you get exactly the custom outdoor sign that you want!
Displaying your outdoor signs is not as complicated as you might think! We offer installation kits and accessories used for mounting signs to wood, metal, stucco, brick masonry or concrete surfaces! Or if you want to hang your outdoor sign, just let us know. We can add holes to the top of your signage to make the hanging process easy!
"I just wanted to write and let you know that your website made it so simple to design a sign, my final design draft was sent for my approval fast, and my sign shipped so fast and got here in plenty of time for our anniversary.

The whole process was pleasant and efficient, and your customer service is great. I will order from you in the future when I need another sign. Thanks again for the great service."

Jeanne
(Who ordered an outdoor metal sign for her husband's garden gate)

"At first I thought that I would never be able to decide which sign material to go with but then I called and Tim helped me choose the best one for my need.

I didn't know that there were so many different types of signs! Thank you so much for all of your helpful information."

Until next time,

Robert Davis
The Davis Group, CA
Frequently Asked Questions About Outdoor Signs in Kentucky
"How can I know that I'm choosing the right type of outdoor sign for my specific project?"
There are a lot of options for custom outdoor signs, which can feel overwhelming. But more choices simply means you'll find the best sign for your needs. Our company has 25 years of experience helping people make this decision. The best way to get started is to use our Product Selection Wizard — an easy online tool that will ask you a few simple questions — the very questions our sign specialists would ask you over the phone — and then it points you to the right type of sign material for your Corbin Outdoor Sign.
"How do I get the design help I need?"
Use one of our three easy ways to create your custom sign: Live Design, Sign Magic, and Order Express.
Live Design lets you see what's on our expert graphic designer's monitor as they create your design, You can give them your ideas and feedback on the phone while you watch. Most sign companies charge for design services, but at TheSignChef, there is No Charge and No Obligation to buy!


Sign Magic online design center helps you create your own design from the comfort of your own home. No graphic design experience is necessary to successfully design a sign in Sign Magic!


With Order Express, you can check out and purchase by simply uploading your previously created design, or you can input what you want your sign to look like and we will create a design for you! Then we'll send you a proof or design based on your specifactions. In this proof, you will see your design exactly as it will appear on your sign — before your sign is built. You'll also receive a check-list to ensure you're getting exactly what you want. You can make unlimited changes to your proof at no extra charge It's simple!


"What size letters should I use on my outdoor sign?"
Our sign specialists are happy to assist you in choosing the best letter size for your particular needs. They can be reached by phone (1-800-899-6272) or on Live Chat from 9am to 9pm, 7 days a week. Or simply use our online Letter-Sizing Calculator which scientifically determines which letter size is best for your sign.
"How much will it cost to ship my sign to Corbin, KY?"
Shipping and handling for outdoor signs to Corbin, KY is absolutely free, even for very large signs! And there is no sales tax charge! That means big savings right up front.
"Which outdoor signs are the most durable and weather resistant in Corbin, KY?"
You can choose a custom finish that will protect your outdoor sign and make it last longer. This extra finishing helps protect all types of signs from even the harshest weather conditions in Kentucky. Our premium grade finish is rated to last 6-8 years outside and includes a UV protective laminate to help retain the bright colors in your outdoor signs Corbin KY.
You can learn more about sign finishing options under the "Durability" category in our Pricing Calculator. Or you can simply speak with one of our sign specialists who are happy to help you select the ideal finishing for your particular project.
"What are the most professional looking types of outdoor signs?"
All of our sign materials are made of professional quality. Ultimately, it's the design on the sign that gives it that professional look. You can use LiveDesign to create your professional sign design with the help of our in-house graphic designers for free. Their know-how and your vision will combine to create the high-end, professional look you are craving.
"What is the average turnaroud time for outdoor signs?"
We make custom outdoor signs fast!
As soon as we receive your approval of the final design online, your outdoor signage will ship to Corbin, KY within just 24-48 hours!
Large orders and specialty requests usually ship within 3-7 business days. If your order is time sensitive, please confirm turnaround neccsesary with Customer Service at 1-800-899-6272.
"How do I know that my custom outdoor sign will turn out the way I want?"
Are you worried that your outdoor sign will not turn out the way you want?
After all, we're probably hundreds of miles away from you so how can you be certain your order will turn out right? Fortunately, it only takes seconds to transmit full-color custom outdoor sign designs from our computer to yours because e-mails travel so fast these days.
Upon order approval, here's how the process works:
First, your order goes straight to the Art Department
One of our experienced graphic designers will email you a proof
(a "proof" is a picture of what your sign will look like)
Once you review the layout, let us know if you'd like to see any changes, and …
If you have any changes, we will e-mail you proofs as needed until you're completely happy with your design.
"Do you offer any buyer protection guarantees?"
Yes! Every outdoor sign order comes with a 100% Buyer Protection Guarantee
Sometimes, we make mistakes. We are only human after all. But isn't it how a business handles mistakes that counts? So in a rare occasion that we overloop something on your order, we'll bend over backwards to make you happy. We stand behind our work with a 100% Customer Satisfaction Guarantee.
We will promptly replace any product that is defective in workmanship or that is different from what you approved. And for your trouble, you will even get a very pleasant surprise gift.