Acrylic Signs
The sleek and durable qualities of acrylic signs make it the ideal choice for corporate, personal and recreational sign usage.
Your new signs can be readily produced in:
Any Size (including JUMBO sizes)
Any Thickness
Any Shape
Any Color
Any Style
Any Finish
And in any quantity, even if it's just one!
You never have to settle for cookie cutter sizes or designs again - you can now get made to order signs in the exact style and look you want!
If you're anxious to get started, you can start right now...
Custom Acrylic and Plastic Signs
For versatility acrylic, plastic, and Plexiglas signs are difficult to beat. The standard glossy surface will lend an extra touch of elegance and professionalism to any of your designs. You can get your signs frosted - or try one of our other specialty finishes like matte or brushed silver.
You can display acrylic signs in so many ways. Check out the accessories you can use to hang or mount your new sign. Gold and silver stand-offs are a sophisticated look that is really popular.
Engraving is another of the large selection of design options we offer. You can also have your sign laser cut into fancy shapes.
You can use them for a lot of display needs too. Try attracting street traffic with your restaurant menu by mounting it directly on the wall next to your front door, having navigational signs cut to the shape of your logo, mounting acrylic letters behind your reception desk, or getting beveled edges to put the perfect finishing touch on your personalized sign.
Plastic signs are extremely affordable, yet highly durable and professional in appearance and quality. You can use them as business solutions inside offices, retail stores, as hanging signs, promotional signs, sale signs, directional signs, point-of-purchase signs, identification signs, high-end trade show signs, interior signage, exterior signage, or anywhere you need a message professionally displayed.
Acrylic:
is UV stable, highly durable, and a plastic sign material well suited for outdoor use.
is completely waterproof.
is ideal for lighted sign displays.
is highly tolerant to cold and hot weather temperature extremes.
is extremely long-lasting indoors.
has a rich, high gloss appearance.
also comes in matte finishes.
is available in many thicknesses.
is easy to display and mount.
is a popular alternative to PVC Plastic Signs.
is available in any size.
can be cut into virtually any shape.
is able to be printed with any design, artwork, photo or logo you choose.
is available in virtually any color you want. (Including clear!).
Big or Small, We Do It All!
While most sign companies are setting limits to what size your acrylic sign can be, we are printing them in every size.
We offer sizes up to 8' x 20' in a single, seamless sheet.
This is the very largest, most rigid, seamless sign panel available in the market today.
If you need a sign that is larger than that, no worries! Just let us know, and we'll make sure to get you any size acrylic sign you need.
The most popular sizes:
12" x 18"
18" x 24"
24" x 24"
24" x 36"
24" x 48"
36" x 48"
36" x 72"
48" x 96"
Available Design Options:
PMS Color Match
Brushed Silver Backing
Brushed Gold Backing
Mirror Finish Backing
Countless Backing Colors and Styles
Custom Hole Placement
Custom Shapes
Rounded Corners
Beveled Edges
Engraved
Sometimes, all you want is the bottom line!
Our online pricing tool instantly calculates the exact prices on Acrylic Signs.
At TheSignChef.com shipping for indoor and outdoor signs is free.
Orders outside the state of South Carolina are tax-free!
We do offer quantity breaks at 1, 2, 3, 4, 5, 10, 15, 20, 25, 50, 100, 250, 500, 1000, 2500 and 5000.
We offer more colors for Acrylic Signs than anyone out there on the web!
You can now choose from ANY color under the sun when designing your new signage.
The sign material itself comes in a number of standard, High Gloss Brilliant colors.
We also offer the very popular clear acrylic plastic sign.
Processing of acrylic sheeting has vastly improved - making the pigments hold their colors better than ever before.
If the acrylic material does not come in the color you need, no worries! The magic of digital printing can take care of that for you!
PMS Color Match available on most materials.
We custom cut more shapes than any other sign company!
TheSignChef.com will cut your signage to ANY custom shape.
Pictured below are a few custom sign shapes, if you need an acrylic sign in a more unique shape, let us know.
Displaying Acrylic Signage is easy!
We offer installation kits that will help you mount your new sign to wood, metal, stucco, brick masonry or concrete!
We offer a large variety of scroll brackets for hanging your new custom sign.
We can drill holes to the top of your sign to simplify the hanging process.
Selection of screw caps are available for a finished polished look.
We carry one of the largest selections of standoffs for a clean, contemporary, corporate look.
Adhesive backing available on small and lightweight signage.
Since most small acrylic signs are placed on doors and in hallways, they include pre-drilled holes in the corners for screw mounts.
The mounting process is usually done by the contractor or handy man.
Though we do not supply the screws, we can drill the holes to any specification provided it will not damage the sign.
In recent years, the raw materials and manufacturing processes of acrylic sheeting have vastly improved. The pigments hold their colors better than ever before. Dimensional stability has also improved making mounting and installations more secure.
Examples of Great Custom Acrylic Sign Designs:
Below are just a few examples of the quality work we produce. Every week we ship out hundreds of custom signs, banners and sign products, for now here is just a sample to whet your appetite. Here at TheSignChef.com we strive to make the best product at the best price. We take pride in every sign, banner and product we ship out. If you are interested in seeing more designs or finished signs check out our photo gallery. There you'll find lots of examples of signs and banners.
Popular Acrylic Sign Uses
Door Signs

Wall Signs

Lobby or Company Logo Signs

Lighted Sign Faces

Counter Top Signs

Directional Signs

Recreational Signs

Mission Statement Signs
Recent Testimonials
Everyone in our office is extremely pleased with the result of our new sign. It really adds a feeling of professionalism and class to our office that was aesthetically lacking before. Julie Weber, one of your customer service specialists, was the one working with me throughout the process. She was very accommodating with all of our different quote requests and knowledgeable of the products. Unfortunately, I have no complaints for you..

Nathan Jones
Graphic Designer
University Communications
Central Michigan University
Looks great, and we are very happy with the product. No complaints. The best of Holiday Seasons to you and the Sign Chef staff.
Frank Vernon

Thanks for your great job! I'm very happy with the quality - that's exactly what I want. I don't have any complaints for your product and your company. It was very easy to communicate and very fast to finish! I'm looking forward to working with you guys again!

Jungo Endo

The Sign Chef Video Library
Here at TheSignChef.com we want to make designing, installing and caring for your new acrylic sign a great experience. You can learn a lot by watching the videos here. These videos are made by us, for you. They include everything you need to know about the acrylic material your sign is made of including size options, shape options and design tips. If you have any questions not addressed in our videos, please feel free to contact us at 1-800-899-6272.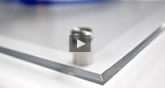 What Do Acrylic Signs Really Look Like Up Close?
4:06min
Acrylic Signs, Any Size You Want
2:33min
Acrylic Signs- How Thick Should My Acrylic Sign Be?
3:00min
Acrylic Signs- Can I Get Any Shape I Want?
2:34min
Acrylic Signs- How Thick Should My Clear Acrylic Sign Be?
3:36min
Frequently Asked Questions About Custom Acrylic Signs
"Just how rapidly can you build a custom sign for someone?"
Once you have approved your final design we usually have your sign produced and ready to ship within 2 business days.
Large orders and special sign requests normally ship in 3-7 business days. If your order is time sensitive, please authorize the exact turnaround time with Customer Service at 1-800-899-6272.
"Would you help me with a rush order, even for a custom acrylic sign?"
We sure will.
We're well furnished with inventory and staff to manage rush orders for a wide selection of acrylic signs. If you find yourself in a bind we'll do everything within our power to help your business receive the custom acrylic sign you need, when it's needed!
"Can I get any design I need?"
Absolutely!
You can choose almost any design or color combination you would like on your custom acrylic sign. For more details feel free to call or email us.
"What is the minimum quantity I can order?"
The minimum order for a custom acrylic sign is simply one!
We offer quantity discounts beginning at the second sign. Of course, the more signs you purchase together, the greater your savings will be (like with all of our custom signs).
"Do you offer any quantity reductions in price?"
Yes, definitely!
The easiest way to get cheap acrylic signs is to buy a bunch of them! The more you purchase, the less every single one will cost you. You'll be able to reach a better number of people for a more cost-effective price!
"What if my sign arrives possessing a defect or is damaged... what can be done?"
If your signs or some other product shows up broken or includes production defects, please contact Customer Support via Live Chat or call us at 1-800-899-6272 immediately. Manufacturing defects fit in our Workmanship Guarantee, so we will replace your sign free of charge.
If you try to contact us after business hours, you are able to e-mail us at service@thesignchef.com and we'll respond after business hours resume.